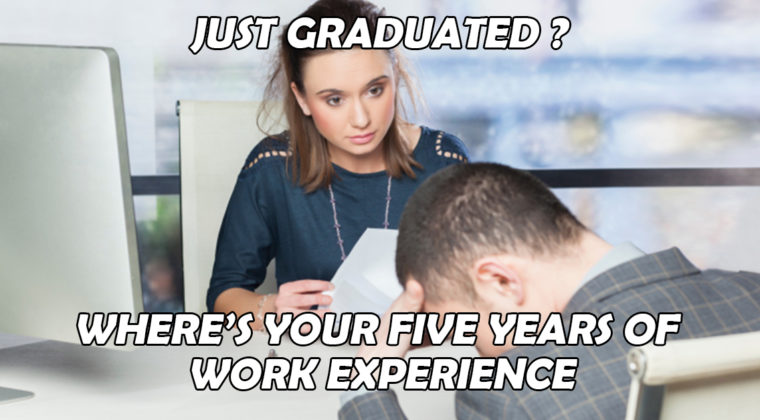 It is every fresh graduate's worst nightmare when their interviewer asks them for "work experience" right after they are done with their degree.
Unfortunately for us, the current commercial climate is such that work experience is a mandatory requirement when it comes to seeking jobs post-graduation. Companies look, not only for graduates who have theoretical knowledge of business, but also those who know the works of a business in practice. Thus, not having enough work experience post-graduation could cost you good job opportunities. And the whole job seeking process becomes longer as you would have to work as a trainee for some time before landing onto a good post.
Naturally, many universities cater to this issue by providing an internship opportunity to their students, who are still in the process of reading their degrees. Internships have become an accepted norm in status quo, and have without doubt solved the issue of not having work experience prior to having a job. Internships have provided students with a window to garner experience even before stepping into the workplace. They are able to get a taste of how work-life would be; learn about the job requirements; explore the multi-facets of their chosen degree (say for e.g.: if you are doing a business degree, then you can gain experience doing an internship in marketing, finance, human resource etc.) and overall, gain a better understanding of the works of their chosen career path. This acts as a good grounding board for students, as well as for their workplaces, as the students gain a sound advantage through good experience, while workplaces don't have to spend much on training costs as their employees are not entirely clueless.
At Kensley Graduate School, internships serve as a mandatory part of the curriculum; as they realize the severity of the demands from a workplace. They have a flexible time schedule that caters to both part time and full time students, and would ensure that both parties would get their fill of internships.
Part- time students have the opportunity of working during the weekends, while doing their studies during the weekends. This flexible structure is very advantageous, as students could gain a lot of work experience while studying simultaneously, and save a lot of time. Furthermore, they can apply for short internships (maybe a 3-month internship), and thus do multiple internships at different places during the year. This would provide for an enriching and well-rounded experience, with no time loss whatsoever.
Full-time students would have to study on all 5 days during the week. However, as a semester lasts for 7 months roughly, they still have ample time for internships in the remaining 4 months. Although they don't share the same advantages as a part time student in terms of the number of internships that they can try for, they do have the advantage of taking things slowly, and focusing on their studies completely, before opting for work-experience. Different students work at different paces, therefore having this choice of part-time, full-time students – have their own unique advantages that would best suit different types of students. Either ways, both types of students would be ensured a good internship opportunity at Kensley.
Kensley also ensures that only the best would be offered to its students, and guarantees the best possible work experience at reputed institutions for its students. Therefore, students of Kensley would have a valid internship resume that is sure to be impressive, before stepping into their first jobs.